1. Where were you born, and where are you currently residing, for how long?

I was born in the land of Harley (Milwaukee) on September 20, 1958. I have lived in northern Illinois since I was about four. Currently live in Waukegan for the last ten years
2. What's the story behind your Username?
My Mom and Dad owned a DQ for 32 years, my brother and I used to walk a half a mile down to Waukegan Speedway every night that they raced since I was about eight. It was like having a babysitter, Mom and Dad always knew where we were at. That sparked my interest in racing, and have been a fan of most any racing ever since then. Heck, I would probably watch ants race if you could figure out a way to number them.
3a. How long have you been riding?
Been riding something since I was 15. Started out on dirt bikes and eventually moved to the pavement............. (counts fingers and toes) makes about 32 years.
b. What is your current bike?

Currently I have two bikes. A 2003 Fatboy, and a 2006 Ultra Classic. They can both be found in my signature pic. The Fatboy does not see much use since we bought the Ultra, probably sell it someday if the price is right
c. What others have you owned?
Started out on a 1975 Cushman MX175, then had two YZ250's which I used to race. Then went to the street with a '83 Sportster, a '88 Sportster, and a'95 Dyna Wide Glide.
4. Who influenced you to start riding?

Probably would have to be the neighbor boy, he had a YZ80 that he used to let me ride. At that time a bunch of guys in the neighborhood had dirt bikes that we would ride. We all got together and built a MX track in an open field that was part of the airport. We eventually got thrown out.........
5a. Married, and if yes how long?
Yes, only two years. After being divorced for twenty years finally met the love of my life, Mariann.
the two of us last year at DEI.........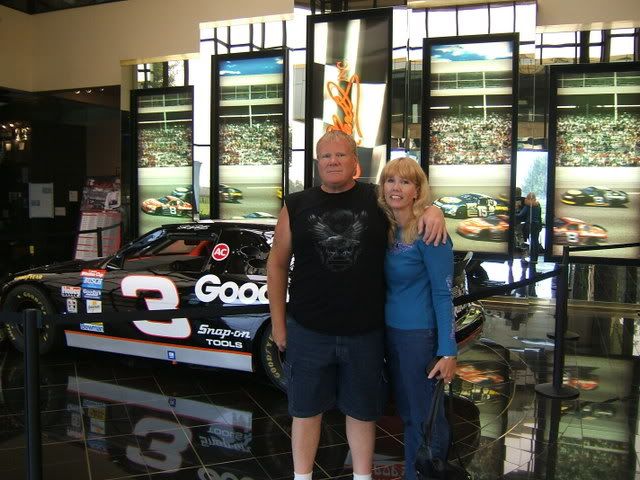 b. Where/how did you two meet?
Yahoo........ like I said, was divorced for twenty years, and the bars just don't have the quality I was looking for. Decided to try the online thing. We talked for a few weeks online then decided to meet for a blind date. The rest is history
6. Kids?
I have a son who is 24, Mariann has three boys 33,28, and 26........ all living on their own.
7. Pets?
Nacho, the fat cat............
8a. Where has your best ride been to?
to many to really say, last year we went on a fun trip up to Door County Wisconsin. Usaually the last one we went on is the best.
b. Any future rides your looking forward to?
Yup, we are going out to the Badlands on the 15th of June for a week. We were hoping to go to Doofapaloosa, but she could not take off then
9. What is your occupation and do you enjoy it?
I am a self employed carpenter, currently doing light duty work. I was on a remodel job two years ago and part of me fell through a floor, and part did not. Hurt my leg and back and still have lingering problems. I do enjoy what I do, which has mostly been trim work lately.
10. Are you looking forward to retiring and what will you after retiring?
Definately looking forward to it. Mariann is a retail store manager now (Hobby Lobby Big Al).......... when she tires of it we plan to move down to Tennessee and build a log cabin in the mountains.
11. Any other hobbies besides riding?
Besides watching racing, I am into RC cars. I currently have a HPI Savage and MT2 nitro powered trucks. A electric carpet oval car, and am building a nitro sprint car
my stable...............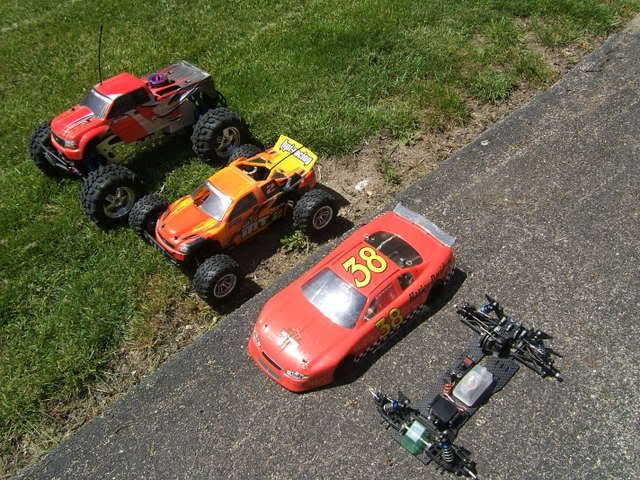 12. Who are your heros?
Jesus, and this guy here, you might of heard of him...............
13a. What do you think about this Doof thing?
I love it, lot of fun to Doof around after a day of stress on good ole planet earth
b. Did you think it would of gotten this far?
nope, not when it first started down the road. I'm just glad I came around and got in on it. I have a lot of fun here and hope to meet many Doof's.......... and gAZINTA's
14a. Favorite movies?
I'm not really a movie guy, one I did enjoy watching though was The World's Fastest Indian
b. Music?
I like a lot of the new rock, some of the old rock still, but I've heard the old stuff so much I'm tired of it. I also like new country, and the blues, love Buddy Guy
15. Tell us all something funny that we don't know about you
I can't really think of anything funny, I love to have fun and laugh, and shock people. Which is why I really enjoyed doing my Rite of Marx pic just last weekend.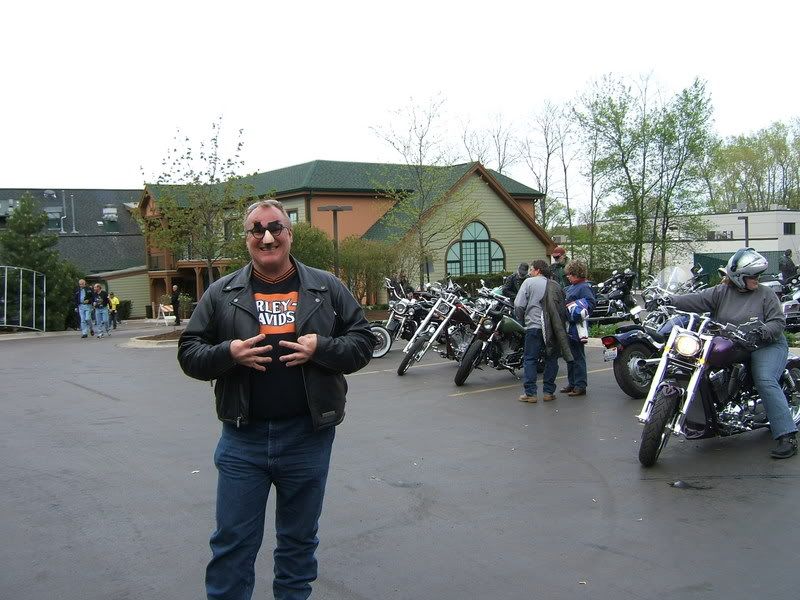 Thanks for the great questions, and for picking me as your "victim" Frank